"Good fences make good neighbors." ∼ Robert Frost
Commercial & Light Industrial Fence
A fence can do many things, starting with adding value to your property.  A great fence will compliment the style of your property's buildings and landscape, adding to the property's curb appeal.
Contact a BEI Exterior Maintenance consultant today and discover how we can help you with your fencing needs.
Privacy fencing is necessary in multi-family housing. Fencing provides a definition of property boundaries, although you should not always depend on the fence line being the property marker. Some areas have regulations regarding setbacks, how far within your property line your fence must be. Homeowners Associations and Property Management guidelines are generally clear in these definitions.
For Safety, Design & Privacy
Fencing enhances your architectural and landscape design. Whether for security, privacy, or as a boundary to provide a safe haven for residents, fencing is available in a variety of styles and designs.
BEI Exterior Maintenance installs fencing for homeowner associations, multi-family housing, office complexes, hotels, business structures, schools, hospitals, and other light industrial and commercial uses. Private, semi-private, picket, chain link, or post & rail, with gates and other accessories are available. Fences do make great neighbors.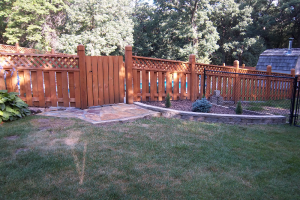 Fencing Gallery